Steve calls me this morning for two things.
First, he gently rebukes me for telling the whole world about his problems. I'm like, whaddafuck, Steve, it's 7.30am on Saturday, and your name isn't even Steve, and not that many people read what I write about you whaaat.
Steve's pretty satisfied with my explanation. I think he's secretly happy that I am airing his woes. It's as if he wants the girl he's seeing but not quite seeing to know that I am talking about him and about her. Maybe that might help them a bit. You know how couples are, they can't talk about things. Takes something external to catalyse matters. Well, if this blog be the catalyst, this blog be the catalyst!
Then he tells me that he doesn't want to go anywhere at all today. I know it's got something to do with the girl he's not quite seeing, but I ask why anyway.
And he yelps: Duuuuude, she called me this morning before I could even leave the house! She's baaaaad luck, dude. I can't leave the house now!
I tell him he needs help, but not from me. There's nothing I can do for this poor bastard, good friend though he may be. I'm gonna leave him to sit at home and starve to death.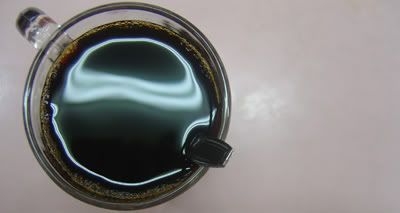 Photo by artistincognito